BearHugs4U Online Show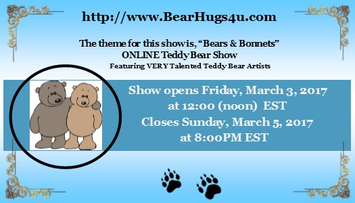 ---
WELCOME! My name is Pam Pontious. I live with my husband and two crazy cats in the beautiful Pacific Northwest corner of the United States. I have been designing and making bears and other strange critters professionally for 30 years. My mother taught me to sew as soon as I could hold a needle. My favorite projects were stuffed animals. Attendance at a Seattle Teddy Bear event in 1986 introduced me to the wonders of mohair and other European plush fabrics.

Through my artistry I attempt to make people smile. Hence, my critters don't take themselves too seriously. There is always room for laughter.
---
SUNNY II is a gentle soul who loves to work in the fairy gardens. His bright rust tipped yellow fur brightens up any place he stands. I created Sunny from German faux fur, stuffed him with polyester, gave him glass eyes and an embroidered nose/mouth. He stands 12" tall not including his hat, has leather paw pads, and is jointed 5 ways. His elven hat and vest are made from wool felt and trimmed with ribbon braid. A little brass bell jingles from the tip of his hat. Sunny carries a tub of freshly picked sunflowers.
$205 w/US shipping

​ I am ADOPTED!
​ Thank you, Patricia!
.​​
---

BABBIT RABBIT is quite the character. He very popular at parties as he tells the funniest jokes. Babbitt stands 16" tall not including his wired ears, is jointed 5 ways, has wire armatures in his arms and glass eyes. I used a beautiful mint green batik dyed German mohair and coordinating mint green upholstery fabric for his ear linings and paw pads. His apron is make from mint green silk fabric with a large pocket imprinted with graphics from a vintage Easter postcard. Babbit's best friend Doin' is also available.
$218 w/US shipping
​
---
DOIN' BRUIN is a quiet fellow who is the straight man for Babbit's jokes. Even though they have different personalities, they complement each other and are best friends. Doin' stands 15" tall, jointed 5 ways, has wire armatures in his arms and glass eyes. I used a lovely medium rose sparse German mohair with coordinating upholstery fabric for his paw pads. His apron is make from striped silk fabric with a large applique imprinted with graphics from a vintage Easter postcard.
$218 w/US shipping
​
---
PADDY and PATTY O'DOODLE are all ready for St Patrick's Day. Paddy stands 7.5" tall, Patty sits 5" tall not counting the combs. I created both guys from German mohair, stuffed them with polyester. I hand-made Paddy's feet from wire and cotton yarn. Their facial features are made from wool felt. Each wears a jaunty top hat and they come with their own pot of gold.
​$160 w/US shipping for the pair
​
---
SHASTA the Reggae Lion stands 17 inches tall and jointed 6 ways including a double joint in his neck. Shasta is a standout in batik dyed curly mohair from dark rust to light cream. I used a pale yellow mohair for his face and ear linings so they stand out from the rich colors of his body. I hand-painted his glass eyes. The paw pads are made of pale yellow upholstery fabric that I needle sculpted. The mane and tail are 3 inch pale yellow mohair into which I wove extra bulky hand-dyed wool yard and other novelty fibers as his dread locks. Shasta's arms have armatures so he can express himself in various poses.
​$235 w/US shipping
​
---
GERALDINE is a 12" tall sweet natured bear, I made from long curly kid mohair and jointed 5 ways. The mohair has a chocolate colored backing, mint green pile with chocolate colored tips – a discontinued color combination. Her eyes are amber glass with white glass corners. I used chocolate brown cotton floss for her nose and mouth, and chocolate brown ultrasuede for her paw pads. I added vintage milliner's flowers and a brass acorn pendant.
$190 w/US shipping
​

---

LADY BEAR FELT PINCUSHIONS stand 6 ½ inches tall. I used German mohair and heavy wool felt, including the flower adornments. They are both trimmed with a ribbon braid and each holds a bouquet of vintage buttons. Their eyes are onyx beads. The cushions are weighted with tiny glass beads. The inspiration for these lovely ladies comes from an antique doll/candy container in my collection. Choices: olive green or deep purple
$63 each w/US shipping

​ Green has been adopted!
​Purple is still available
---
---
Purchase information within the US:
I accept only PayPal as a method of payment. It's the safest, fastest easiest way to pay for your items and you don't have to have a PayPal account to pay! To pay for your selected item, just click the PayPal button to be directed to the PayPal site.
Shipping within the US is included in the price of the item. I ship via USPS priority mail with insurance for the full value of the item.
Purchase information outside the United States:
Use the PayPal button to pay for the item.
I will send you an invoice for the additional shipping cost
. Please contact me
before
clicking the PayPal button if you need to know the additional shipping cost to your country before committing to a purchase.
I am not responsible for any custom fees due. I declare the exact value of the item. I ship via USPS International Priority Mail insured.
You may contact me at
pamdabears@yahoo.com
with any questions before purchasing.
I can also be reached at
360-319-2033
.
Please note: you cannot "reserve" a piece. A piece is available to anyone until the payment is finalized via PayPal. ~ Thank you, Pam
I will beginning shipping purchases on Monday, March 6, 2017.
---