BearHugs4U Online Show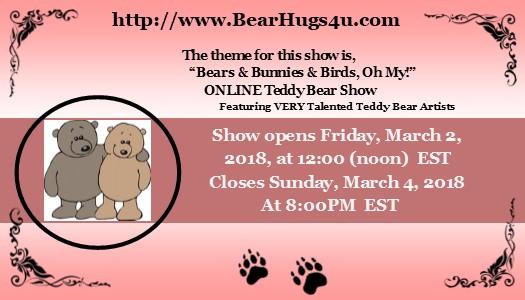 ---
WELCOME! My name is Pam Pontious. I live with my husband and two crazy cats in the beautiful Pacific Northwest corner of the United States. I have been designing and making bears and other strange critters professionally for 30 years. My mother taught me to sew as soon as I could hold a needle. My favorite projects were stuffed animals. Attendance at a Seattle Teddy Bear event in 1986 introduced me to the wonders of mohair and other European plush fabrics.

Through my artistry I attempt to make people smile. Hence, my critters don't take themselves too seriously. There is always room for laughter.
---

EASTER DELIVERY with Jackie and Bunny Doodle. Jackie is a sweet black bear cub that stands on all fours, 10.5" long nose to tail, 5" tall bottom of feet to top of hump. He is jointed 4 ways with an armature in his neck and front legs. He is made of a German black tipped mohair/alpaca blend plush. He has glass eyes and embroidered nose/mouth. Jackie wears a wool felt heart blanket over his back.
Bunny stands 6" tall, not including his "ears." He is made of hand colored sparse white mohair, wool felt features, hand made feet. He wears a set of wool felt bunny ears and carries a basket of eggs.
​
$260 including US shipping
​
---


SASHA and her TOY PUPPY. Sasha stands 15" tall, is jointed 5-ways, and made of peach German mohair. She has hand embroidered nose/mouth of cotton floss, vintage shoe buttons for eyes, and wire armatures in her arms. Her dress is made using vintage pattern cotton quilt fabric depicting Scotties and bows; her pantaloons are coordinating blue plaid cotton. Toy Scotty is made of Euro plush in a "cookie cutter" style (unjointed) with bow made of a strip of the dress fabric.
​$215 including US shipping​

ADOPTED!!
​Thank you, Susan.
---
BILLY BEAR is a cute little clown bear. He stands 10" tall, made of bright yellow and teal mohair; he has antique shoe button eyes and is jointed 5 ways. His hat is cotton fabric with a wool yarn pompon. Billy will make your days brighter with his sweet smile and cheerful colors.

$170 including US shipping


---
​FIONA the lop-eared bunny is just in time for Easter. She stands 10" tall, jointed five ways. She is made of yellow, green and pale pink mohair fabrics. She has glass eyes and multicolored thread whiskers. Fiona is decorated with parts of cone flowers. She looks adorable tucked into an Easter basket or a table center piece.

$170 including US shipping
​​
---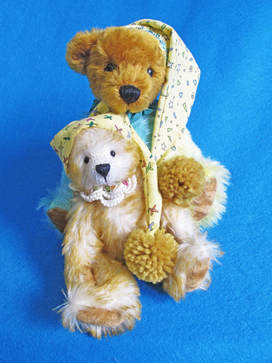 ---
Purchase information within the US:
I accept only PayPal as a method of payment. It's the safest, fastest easiest way to pay for your items and you don't have to have a PayPal account to pay! To pay for your selected item, just click the PayPal button to be directed to the PayPal site.
Shipping within the US is included in the price of the item. I ship via USPS priority mail with insurance for the full value of the item. If multiple items are purchased, I will ship them together and refund any excess shipping over $2.
Purchase information outside the United States:
Use the PayPal button to pay for the item.
I will send you an invoice for the additional shipping cost
. Please contact me
before
clicking the PayPal button if you need to know the additional shipping cost to your country before committing to a purchase.
I am not responsible for any custom fees due. I declare the exact value of the item. I ship via USPS International Priority Mail insured.
You may contact me at
pamdabears@yahoo.com
with any questions before purchasing.
I can also be reached at
360-319-2033
.
Please note: you cannot "reserve" a piece. A piece is available to anyone until the payment is finalized via PayPal. ~ Thank you, Pam
Note: I will beginning shipping purchases on Tuesday, March 6, 2018.
---