BearHugs4U Online Show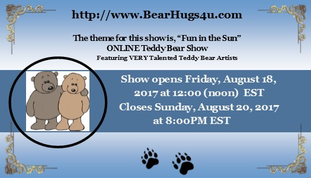 ---
WELCOME! My name is Pam Pontious. I live with my husband and two crazy cats in the beautiful Pacific Northwest corner of the United States. I have been designing and making bears and other strange critters professionally for 30 years. My mother taught me to sew as soon as I could hold a needle. My favorite projects were stuffed animals. Attendance at a Seattle Teddy Bear event in 1986 introduced me to the wonders of mohair and other European plush fabrics.

Through my artistry I attempt to make people smile. Hence, my critters don't take themselves too seriously. There is always room for laughter.
---
MISSY MARIE is enjoying the warm summer days. She loves to make flower crowns for herself and her dolly. MARIE is made of Schulte mohair, stands 12" tall, is jointed 5 ways, has antique shoe buttons for eyes, wool felt paw pads. Her arms contain wire armatures so they can hold Dolly. She is wearing a vintage cotton doll slip and a brass heart pendant. Marie's crown is woven using vintage millinery flowers. DOLLY is assembled from excavated doll parts found behind an abandoned German porcelain factory, circa 1860s. Her face still retains her beautiful blush in spite of being buried all those years.

​$200 incl US Shipping

---
BUNNY DEAREST – "Heartly" stands 9.5 inches tall, not including ears. He is made of short pile mohair, jointed 5 ways, has amber glass eyes with white corners. His ears are wired so you can pose them. Bunny wears a hand-knit sweater with a pretty rose colored heart and blue accents.

ADOPTED! Thank you!


​
---
DOLLY BEARS are made of tea-stained mohair, joined 5 ways and stuffed with polyester and small glass beads. Their pretty heads are antique porcelain doll heads that were excavated from pits behind an abandoned German porcelain factory, circa 1860s. I trimmed them with fancy braid and vintage style satin ribbon. Each wears a brass pendant or locket. I love their sweet smiles.
​
​$150 each incl US Shipping

​Dark Peach​


​Antique white
---
---
ROLY POLY BUN-BUN the shelf sitter is 9.5" tall. Her head is jointed. Head and arms are made from peach Schulte mohair, and she has glass eyes; her body is muslin, stuffed with polyester and weighted with plastic pellets. Bun-Bun is dressed in a vintage-style cotton print in colonial blue and vintage millenary flowers on her head. She holds her beloved well-worn toy which is missing one of his ears.

​$150 incl US Shipping
---
Purchase information within the US:
I accept only PayPal as a method of payment. It's the safest, fastest easiest way to pay for your items and you don't have to have a PayPal account to pay! To pay for your selected item, just click the PayPal button to be directed to the PayPal site.
Shipping within the US is included in the price of the item. I ship via USPS priority mail with insurance for the full value of the item.
Purchase information outside the United States:
Use the PayPal button to pay for the item.
I will send you an invoice for the additional shipping cost
. Please contact me
before
clicking the PayPal button if you need to know the additional shipping cost to your country before committing to a purchase.
I am not responsible for any custom fees due. I declare the exact value of the item. I ship via USPS International Priority Mail insured.
You may contact me at
pamdabears@yahoo.com
with any questions before purchasing.
I can also be reached at
360-319-2033
.
Please note: you cannot "reserve" a piece. A piece is available to anyone until the payment is finalized via PayPal. ~ Thank you, Pam
Note: I will beginning shipping purchases on Tuesday, August 22, 2017, after the solar eclipse!
---