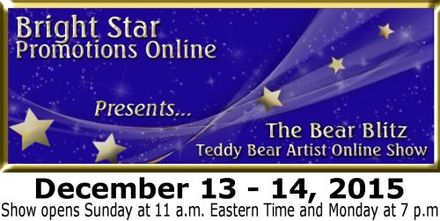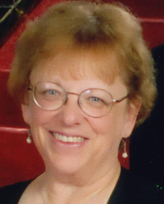 WELCOME! My name is Pam Pontious. I live with my husband and two crazy cats in the beautiful Pacific Northwest corner of the United States. I have been designing and making bears and other strange critters professionally for over 25 years. My mother taught me to sew as soon as I could hold a needle. My favorite projects were stuffed animals. Attendance at a Seattle Teddy Bear event in 1988 introduced me to the wonders of mohair and other European plush fabrics.

Through my artistry I attempt to make people smile. Hence, my critters don't take themselves too seriously. There is always room for laughter.
---
Sweet CONNIE FIR stands 10" tall without her hat. Her head and arms are made of German wool plush. The white "fir" body and hat are silky European faux fur. Her internal body support is a firm bed spring on a fiber board base. She has glass eyes and embroidered brown nose outlined with gold floss. She is not jointed. Connie is decorated with mini green bauble garland, three mini ornaments and a gold star that sits at the tip of her hat. Connie will bring joy to your holiday season.

ADOPTED!!
MERRY DOODLE stands 7 ¾" tall from the top of his head to the bottom of his hand-made feet. Merry is made of German mohair with wool felt beak, comb and tail feathers. His feet are shaped from wire and wrapped in two layers of cotton yarn. His hat is made of wooly felt with braided chenille yarn trim. A wreath of braided ribbon is appliquéd to his chest. He is all set to ring in the season with the jingle bell on his hat.

Price = $110 w/shipping via US